We have been hunkered down here in the Mast house recently with temperatures bordering, if not below, 0 degrees and a wind chill in the negatives this past week. We've been reading a lot of "snow/winter" related books from the library and I will share a few that we have been loving! And one that just happens to remind us of the coming spring!
Snow Sounds: by David Johnson
is a sweet little story using just onomatopoeia words (like "Whoosh!", "Beep", and "Whomp!") to tell a story about a boy waking up to a snowy day. Lukka has loved this one, a very quieting, relaxing story to read before bed.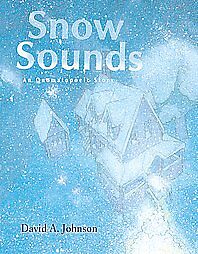 Flannel Kisses by Linda Crotta Brennan
is a sweet, simple story that is about a family who lives in the woods and is enjoying the day, from morning til night, in the outdoors and indoors with family. I loved the illustrations in this story and found that the pictures resembled a similar household I would love to have, stockings & mittens drying by the fire, fresh bread right out of the oven, and imaginative play happening all throughout the day!
Snow Day by Komako Sakai
is another one we picked up, this one for the second time. Lukka has really taken a liking to this book, and I have too, since I love the illustrations in this book! This book made an impression the first time, too, since I did a
review of it here
back in August, when I was only dreaming of snow!
Last but not least is All the World by Liz Garton Scanlon. This book has us wishing it was Spring, already! It is a large book with nostalgic pictures and places that interweaves a community through good days and bad, and all of the activities that happen to us in between. This might be Lukka's favorite book of the lot, since he loves ryhming books!
What have you been reading this winter?
(click on pictures to see photocredits)